Quantum Deep Dive:
Your Gateway
to Higher Dimensions
Quantum Deep Dive is an intensive, interactive online training that will help you reach the Quantum Field, experience beautiful connections with Galactic Light Beings, access your Akashic Records and work with energy to transform your life.
We will break down the fundamental concepts of connecting to your Guides, accessing the Akashic Records, speaking Light Languages, channeling, transmitting and receiving Light Technology.
Not only will you personally experience powerful shifts but also together we will create a potent group vortex.
This process was developed by Aeron Lazar and Riya Loveguard after they have witnessed POWERFUL BREAKTHROUGHS these practices brought for them and their students. 
YOU'LL NEVER HAVE TO RELY ON SOMEONE ELSE TO COMMUNICATE WITH YOUR GUIDES, KNOWING THAT YOU HOLD POWERFUL ENERGETIC TOOLS YOURSELF!
Aeron will work closely with you energetically on a deep level to unlock your divine intuitive gifts to help you step into your purpose and connect deeper than ever before with Galactic Light Beings such as the Arcturians, the Pleiadians and the Sirians.
DOES IT GET ANY BETTER THAN THAT?
Yes! The Quantum Deep Dive Intensive Programme is just the start! After the intensive workshop you will also get a follow up event 2 weeks after + 4 weeks of personal support from Riya and Aeron in a private group.
DO I NEED TO TAKE PART IN THE SESSIONS LIVE?
It would be amazing if you could join us live, but you will also get a lifetime access to the recordings of every session. You will be able to access them anytime and go through the exercises and activations over and over again, or whenever you need to.
DURING QUANTUM DEEP DIVE INTENSIVE ONLINE PROGRAMME YOU WILL
GET READY FOR 3 DAYS
OF TRANSFORMATION
This Course is for you, if you are:
a Starseed who wants to get connected to your Galactic Family,
Lightworker ready to take your intuitive practice to the next level
A psychic medium or tarot reader who wants to expand their abilities and work closer with Beings of Light
an open-minded individual ready to expand your spiritual abilities
Check out what others experienced at Quantum Deep Dive:
"I joined Quantum Deep Dive because I was attracted to the Llight Language and keen to find like minded people During the workshop, I got both connection and clarity. ! I so loved the Pleiadian session at the end. Feeling the love I recommend this experience to anyone who feels drawn to this. "
"I signed up for the workshop because I wanted to prepare myself for 21/12 to assist in whatever way I can. I was drawn to this course to dive deeper and learn to connect with my galactic guides. What changed during the workshop is that now I feel a deep connection with my Galactic guides. I have a better understanding of the quantum. I feel so much lighter and airy, but still with my feet on the ground! I love my light language, even though I'm not fluent yet!! I am looking forward to continuing my access and learning! I have some friends that are on their spiritual path and I will be urging them to sign up. Thanks again!"
"I wanted to learn to meditate without being guided. I wanted galactic information and I wanted to learn tools to raise my vibrational energy much further. During the workshop I experienced the Quantum! Yay! I realized that i have been doing this since childhood in a state between wakefulness and sleep. Breakthrough of a lifetime!
I am now in control of this process instead of an unwilling passenger. This has erased my fears! I am going to make a post on my Eyes in the Skies! Worldwide group to recommend this workshop to everyone because it was truly a life changing experience and i would like to thank you both (and your guides) for this incredible experience!"
"I wanted to experience the Quantum, although I felt it in a dream (most of the time). What changed during the workshop is that I am gaining more confirmation and more "control" and knowledge of what is/was happening, and actually erasing all the doubt of what can come up. I would recommend this experience to some friends whom I know are on the same frequency (...). I tried Light Language once on a friend and she said it sounds like Hindi. She is an Indian lady and I have no knowledge of this language at all. I do remember that there was a warming sensation in my heart area, which took me by surprise."
"What I wanted to experience when joining Quantum Deep Dive was clarity on which light being I was channeling as light language.. What happened during the workshop is that I had a clear understanding of who I am, what am I here to do and how to access my own information from the galactic realm . I would recommend this workshop to anyone who is searching for a better understanding of there spiritual being here on earth"
WHAT IS INCLUDED IN QUANTUM DEEP DIVE?
Choose the best package for you:
FULLY
SUPPORTED
Lifetime Access to All Recordings
ELEVATED & EXPANDED
Lifetime Access to All Recordings

6 Months Membership in the Quantum Cub
INDIVIDUALLY GUIDED
Lifetime Access to All Recordings

6 Months Membership in the Quantum Cub

4 x 90 min Individual Coaching Session
Check out what others experienced at Quantum Deep Dive:
The Quantum Deep Dive course has been transformational to say the least!

The Opening Ceremony was exceptional. The energies of the Arcturians, Sirians, and Pleiadians were very different but very welcomed. During the time with the Sirians, I felt deep pressure on my chest with my heart chakra opening up. So much pain and grief were released; tears were streaming down from my eyes; and I am sure that it was a profound healing session. I don't know if I am a Starseed or if I have had an earlier connection with the Sirians, but the transformation of my being has been significant, and one of which I am forever grateful for. Week 1 was wonderful too. If the last two Mondays were an entre, can't wait for main and dessert!
"Thank you so very much once again for such a beautiful and radiant workshop. My heart's and soul's path have always been drawn to serve the light and my journey has been a very long one with much shadow work. I felt ready for the next level as Spirit has been guiding me since the end of October to my Lemurian Ancestors through which in turn I have found you guys. I was literally guided to you and this workshop. Having learned and studied and experienced a lot in the last many years of my own awakening, I was not aware of light languages. After having listened to your introductory webinar and listening to the light languages as channeled by you for the first time, my heart was so deeply touched and I teared up. This moment of connection is when I felt strongly guided to take your class. I knew in my heart that embarking on this journey with you guys would help me intensify and deepen my healing work I offer others. Since childhood I have been looking for the stars to be 'taken home' but nobody ever picked me up. Today I understand why I was always feeling so 'homesick' and connecting with such amazing souls as yourselves and those in this class is a wonderful reminder that I am not alone in my remembering of my own origin. And this class would assist me in finding this 'home' I once experienced.
I never thought I myself could ever 'speak/channel' a light language (despite my own still awakening channeling work), but having experienced the Quantum, the high frequencies of our galactic brothers and sisters and the first few 'words' of light language provided me with so much hope and realization of how much more potential there truly is within myself. I still feel at the beginning of this and still have a lot to learn and practice as to Quantum in and out and allowing myself to surrender fully to channel my light language but this process makes my heart and soul sing. Much much gratitude for your lights and gifts"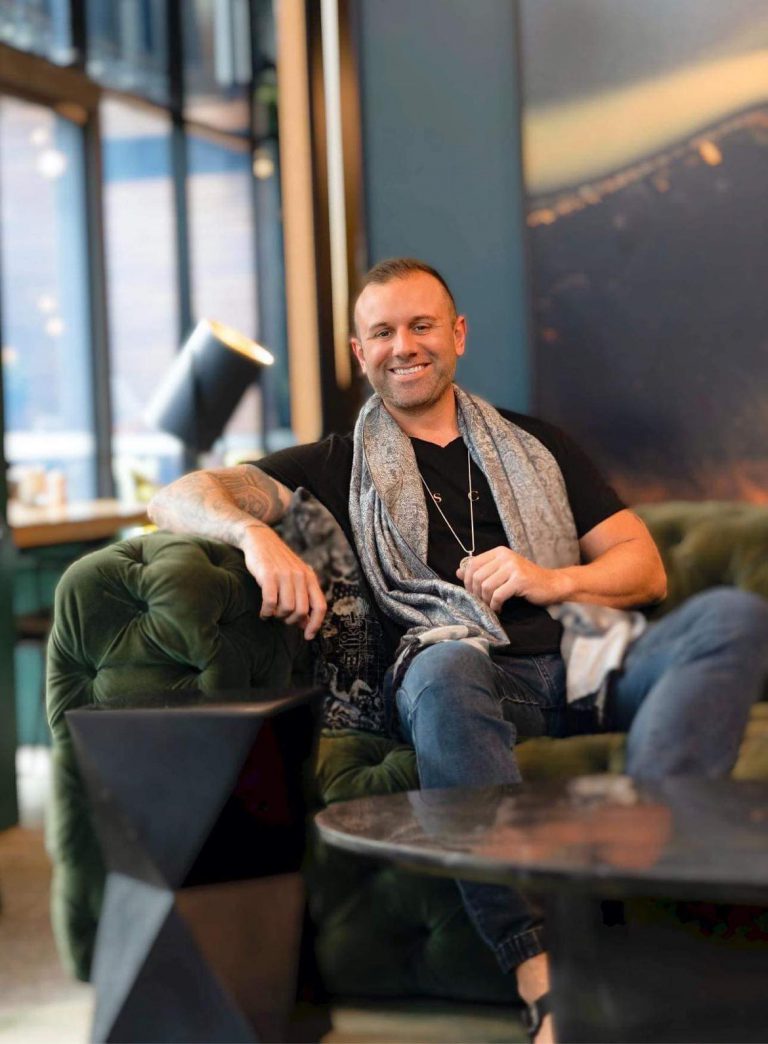 Spiritual Guide & Multidimensional Psychic
Aeron Lazar is a psychic, an energy worker, a channel to Galactic Beings of Lights and a spiritual teacher with full-blown interdimensional gifts.
Aeron has had the ability to open up spiritually for over two decades. However, he got busy running very down-to-earth property businesses and pushed his cosmic gifts to one side. Life challenges, stress & failure of his business pushed him to pursue mindfulness. As a result, he reconnected with his Higher Self and began working energetically with various Light Beings including the Arcturians, the Pleiadians, the Sirians, the Lyrans and the Galactic Federation of Light.
Aeron has the ability to receive energetic codes and upgrades and transmit them to others. These codes work with every aspect of a person's 3D reality and assist in creating a lifetime of abundance and fulfilment, in every way. Aeron Lazar also works with the Akashic Records on removing blocks, limitations, curses, bonds and all sorts of spiritual ties.
Aeron is passionate about helping people from all walks of life unlock their divine potential, access higher realms of consciousness, discover their planetary mission and effortlessly attract their soul's true desires.
Frequenty Asked Questions