The Akashic Records Mastery
LEARN TO ACCESS, READ AND WORK ENERGETICALLY WITH THE LIBRARY OF THE UNIVERSE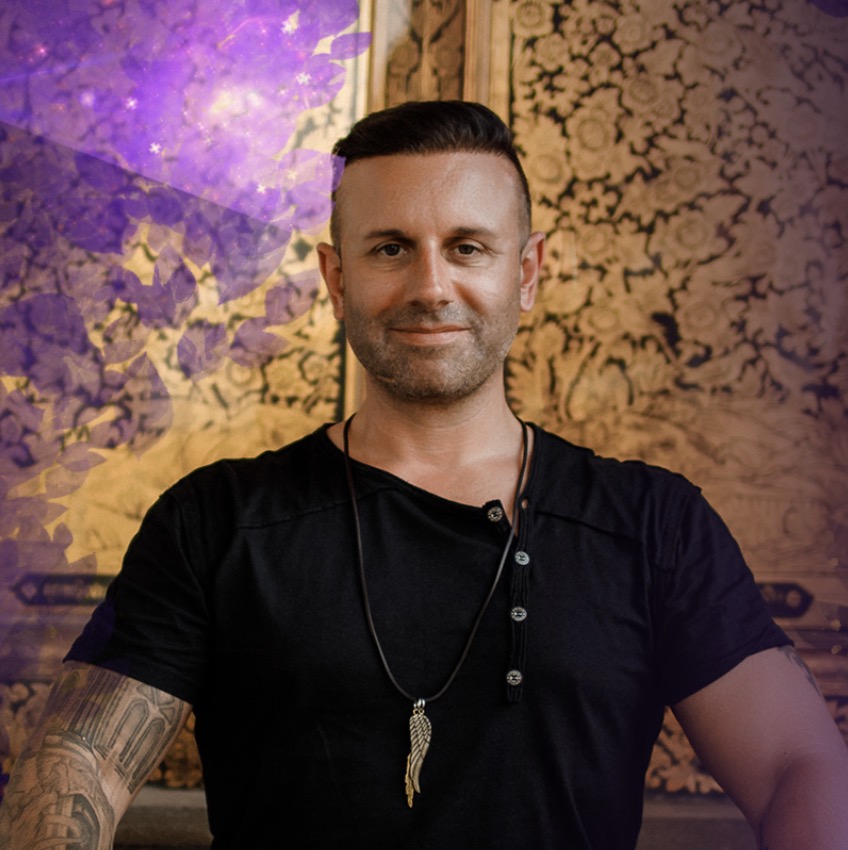 If you come across the same negative patterns in your life, despite working hard on your mindset, it may mean that there are invisible blocks to love, abundance or optimal health present in your energy field.
You may have tried working coaching, activations, reprogramming your subconscious mind or even therapy. But because these modalities are limited to imprints from this lifetime alone, they often miss a bigger picture: our Soul's experience beyond this incarnation.
The good news is that by accessing the Akashic Records, you are able to go deeper: straight into the cause of any distortion affecting your life. You can find out how events from your previous lifetimes influence you today. And as you learn to work energetically with the Akashic Record, you will effortlessly shift out of difficult circumstances, change the trajectory of your life and embark on the course to a brighter future.
Akashic Records - discover mission of your soul
The Akashic Records contain the entire history of every soul that ever existed. They hold the energetic record of your soul's journey through every lifetime since its inception at Source.
The information stored in the Records has enormous influence on everyday lives. It holds the key to understanding our relationships, our choices, tendencies and belief systems as well as the reality that we manifest.
Your Soul has a unique mission. By accessing your personal Akashic Records you can discover that mission, tap into your highest potential and access clear guidance on how to create the life your Higher Self desires.
You can access the Akashic Records:
I have created the Akashic Records Course so you can learn how to access the Library of the Universe in a conscious, awakened state and how to work with the Records to free your life from karmic loops, energetic distortions and blocks.
The Course will take you through concrete steps you need to take to access, read and interpret the Akashic Records. You will receive practical guidance on how to work with the Akashic Records and the karmic field of energy to identify and remove trauma and karma that may negatively affect your life.
Over the course of 14 practical sessions and activations, you will learn how to use this powerful modality with confidence and efficiency. You will also personally experience powerful shifts and energetic upgrades as you clear your own Records from distorted energy.
The Akashic Mastery Course is the most comprehensive, practical and in depth online program on the subject in existence.
Guided by Aeron Lazar, one of the world's leading experts on the matter, you will reach mastery in working with the Akashic Realm, the most expansive spiritual plane of all!
The Akashic Records Course lives to its name as the most comprehensive programme on the subject in existence, as it doesn't just give you the keys to unlocking the secrets of your past incarnation on Earth!
That's right! The Terrestrial Block of Records is only one part of the vast Akashic Realm! And we are going Galactic!
In order to be a proficient Akashic Practitioner, Aeron will show you how to effectively work with all the component parts of the Akashic Realm including:
The Terrestrial Hall of Records
This is where you will find the good, the bad and the ugly of your Soul's history on Earth! You will discover stories that will look like the Game of Thrones had a baby with the Witches of Eastwick, all based on facts and written by your Soul!
The Karmic Fields of Energy
Contrary to the popular saying, Karma is not a b*tch. She's a fine and just lady who intricately weaves across incarnations and records every energetic IOU that we get to pay back through experience. Each "piece" of Karma is stored in the Karmic Fields and assigned a score! You will learn how to release it!
The Unity Consciousness Field
Experience a blissful non-dual state as you access the Unity Consciousness field that sits above the Records and the Karmic Field. Like the legendary Indra's net, it connects us to all that was, is and will be! Plus, it contains a whole bunch of incredible energetic upgrades – hello 12D abundance codes & Ascension Templates!
The Galactic Hall of Records
Looking for your Starseed origins? Wondering what your Soul Mission is? This is where you will find all the answers, including all the juicy details of your extraterrestrial lives and terms of the Soul Contract you signed before volunteering for Mission Earth!
Here comes the fun part! Flick through all your parallel lives as if they were TV channels and pick which show to tune in to! Aka, welcome to Quantum Jumping into your ideal reality!
This is how Aeron's work is changing lives
Aeron! Working with you was amazing! Having the ability to connect was a unique experience and knowing what and how was going to be accomplished made me feel relaxed and at peace spiritually, mentally physically and emotionally. After the session was completed I was able to understand why certain situations in my life continually occurred, and now that they are cleared.I can move forward and focus on my ascension for the greater good of myself and the collective.
Before the session I was a bit anxious and also excited to see what would be unveiled. During the session I released an agreement I made from a previous lifetime that blocked my spiritual gifts, especially my sight, due to the fact it was not safe. I feel my third eye is opening again and I'm bringing back my joy. In addition, I released some beliefs around relationships in this lifetime. I embraced my complete worthiness for an amazing relationship in that lifetime. I would recommend anyone who is feeling a block in their connection to their spiritual gifts to go to Aeron. He is an amazing healing facilitator!
"I felt so much lighter after the session and right. Now i am happy and easy going. In other words "I feel great", not even tired. Do you know what's funny? Since this afternoon i don't think one time about anything from the past. It somehow faded AWAY!"
I felt both nervous and excited before the session. I really enjoyed meeting Aeron and appreciated how sensitive and caring he was about the process and my feelings. He created a very safe space to be open and honest. Now I feel confident that I'm on the right track with my spiritual development.
My knees and my throat were giving me trouble so I contacted Aeron. It turned out it was connected to some burden and trouble from the past life. When I gave Aeron the permission to go to my Akashic Records and karmic, he found the root of the problem. I felt this gentle physical experience right through the session and I felt so much relief! I highly recomand his help and support if you are looking for a permanent solution for your problems.
Within two days after the session with Aeron there was a new found bounce in my step and sparkle in my perception. I felt powerful career vibes come back online. My energy has been potent! I've been more confident and as a side note I actually saw what I think was my own aura for the first time. To say the least, that dose of energy and protection was seriously magical.
I knew I had to delve into my Karmic records to clear any karma and I knew you could root it out. When you released what you found and then sealed it I felt much lighter and happier. As you are adept at helping others in this way I would have no doubt in recommending you to anyone who wishes to evolve spiritually. In love and light.
Quantum Instruction: Understanding the Dimensions and The Akashic Realm
Find out the location of the Akashic Realm within the multiverse, gain deep understanding of dimensions and find out how to access the Akashic Records.
Quantum Practice: Elevate Your Consciousness and Access the Akashic Realm
Guided by Aeron, take your first journey into the Akashic Realm and access the Hall of Records in a conscious, awakened state.
Quantum Instruction: How to Access Your Akashic Records
Discover the Structure of the the Akashic Realm and the Halls Complex ,and receive an essential safety briefing as you learn how to read your Akashic Record!
Quantum Practice: Guided Akashic Tour
Elevate your consciousness and take a guided tour around the Akashic Halls compound and corridors, find where the Records are kept and discover the Karmic Field of Energy.
Quantum Instruction:  How to Read the Akashic Records
You will learn how the Akashic Records are represented to a person's consciousness, discover the secrets of failsafe and 'firewall' of the Akashic Records and find out the role of the Guardians of the Akashic Records.
Quantum Practice: Meet the Akashic Keepers!
Get personally acquainted with the Guardians of the Akashic Realm (practical tip: it's better to be on their good side aka put the books where you found them!)
Quantum Instruction: How to work energetically with the Akashic Records
Discover the intricate karmic mathematical system, guiding every soul's evolution trajectory as you understand the relationship between the Akashic Records, The Karmic Field of Energy and find out how to work with the records to transform your life.
Quantum Practice: Dissolve Karma, Remove and Recode Distortions in Personal Energy Field
In this very technical session, you will practice neutralizing karma in the Karmic Field of Energy, removing energy blockages and recoding discordant energies in personal energy field. Welcome the optimum flow of abundance without obstacles!
2022 AKAshic MASTERY UPDATE!
SESSION 9
Opening Ceremony & Activation!
My and my Galactic Team of Light Beings will code you with access frequency and gridwork that will act like a VIP pass for your consciousness to the Akashic Realm.
SESSION 10
The Galactic Block of Records!
Receive the key to Starseed Readings as you find out how to discover details of past extraterrestrial incarnations, including terms of Soul Contracts.
SESSION 11
12D Unity Consciousness Field 
Discover the upper 'layer' of The Akashic Realm, the Unity Consciousness Field created by every other living soul in existence. Experience a blissful non dual state and get access to 12D abundance codes & Ascension Templates!
SESSION 12
The Oversoul Template and Quantum Jumping
Receive technical, in-depth instruction around The Oversoul Template and put your new knowledge into practice by Quantum Jumping to alternate parallel realities!
SESSION 13
Q and A and Coaching Session
Burning questions about the Akashic Records? Ask Aeron and get the answer straight away! 
SESSION 14
The Light Language of the Akashic Realm
Discover the sounds of the most powerful Light Language in existence, the Language of the Akashic Realm, capable of melting through karma-trauma bonds like butter!
Expand Your Akashic Mastery with Cutting-Edge Insights!
I understand that your time is valuable, which is why I have restructured our program to provide bite-sized theory modules that can easily fit into your busy lifestyle. Get ready for an immersive experience like no other with brand new session recordings and extra material!
Introduction: The Gateway to Transformation
Embark on your Akashic journey with a comprehensive introduction session. Gain a clear understanding of the program's framework, setting the stage for the transformative experiences that lie ahead.
Sessions for Beginners: Foundational Wisdom for Empowerment
Get Up to Speed – No Matter Your Starting Point!
How to Elevate Your Consciousness
Discover the fundamental principles and techniques to raise your consciousness to new heights. Unlock the potential within yourself and expand your awareness of the vast possibilities that the Akashic Records and other dimensions hold
Learn the art of shielding yourself energetically as you navigate the Akashic Realm. Uncover powerful techniques to safeguard your energy and create a sacred space for your explorations.
Dive into the fascinating world of channelling and connect with higher realms of wisdom. Master the art of receiving divine guidance and messages, tapping into the limitless wisdom of the Akashic Records.
Advanced Sessions: The Akashic Practitioners Course
Unveiling the Deeper Mysteries with Deep-Dive Sessions
Locations of the Akashic Records
Journey deeper into the Akashic Realm as you explore the various locations of the Akashic Records. Uncover the hidden dimensions and discover the portals that grant access to this infinite source of knowledge.
Karma and Its Relationship to Terrestrial and Galactic DNA
Explore the connection between karma and the intricate web of terrestrial and galactic DNA. Gain profound insights into the karmic imprints that shape your journey and learn how to transcend limitations.
Healing Past Life Painbodies
Unravel the mysteries of past life painbodies that may be influencing you and your clients' present reality. Delve into past life experiences stored within the Akashic Records and release the energetic blocks hindering your progress.
Releasing Ancestral Patterns
Dive into the depths of ancestral patterns and discover how they shape your experiences and relationships. Gain clarity on inherited traits and liberate yourself from the constraints of generational patterns.
Experience profound healing as I guide you through powerful techniques to release pain and trauma stored within your energetic field and physical body. Transform your past wounds into sources of strength and empowerment.
LIVE SESSION: Your Opportunity to Connect
Join me for a live Q&A session and seize this unique opportunity to have your burning questions answered as I will be offering personalized guidance to support your continued growth and transformation as an Akashic Practicioner.
By the end of the Course you will learn how to:
During the course of 20 powerful sessions
you will receive:
Choose the best option for you:
THE AKASHIC MASTERY
$
2222
Or 4 easy payments of $599
The Akashic Records Course

Aeron's support in a private group

channelled activations to expand your consciousness

Alive, Aligned & Abundant Codes Megapackage
INDIVIDUALLY SUPPORTED
The Akashic Records Course

Indiviudally Tailored Journey

Aeron's support in a private group

channelled activations to expand your consciousness

up to 12 months individual Akashic Guidance and Clearing in private sessions!

Voxer support!
What my students say about Akashic Records Course?
Aeron, thank you for teaching me how to access the Akashic Records. It´s a tool, it´s a map that now I will explore more! This workshop gave me more clarity and guidance. As we first accessed the Record I saw the entrance in dakrness. But once I entered the corridor, the walls started to be illuminated. They are made out of golden light. As you guided us to explore three different wall-images, I saw images of my previous lifetimes and karma associated wih us. After the session, I went for a walk with my dog and I felt my body so much lighter, I saw every human being and animal on our way through the eyes of love. Accessing Records is a tool for me, for my healing journey and dissolving what distorts my energetic field. It's of such value!
What an amazing Akashic Course! When I got through the first trip to the Hall I found 3 records, one which had emotion, sadness and much loneliness. I also had a helper in there with me. The Keepers said I'm in my records all the time...like a graduate student who is ALWAYS at the library. I'm there in my sleep time over and over. So we know each other very very well. They were chuckling because it was them first time when I came with my waking consciousness.