THE AKASHIC RECORDS:
HOW TO ACCESS, READ AND WORK ENERGETICALLY
WITH THE LIBRARY OF THE UNIVERSE
If you come across the same negative patterns in your life, despite working hard on your mindset, it may mean that there are invisible blocks to love, abundance or optimal health present in your energy field.
You may have tried working coaching, activations, reprogramming your subconscious mind or even therapy. But because these modalities are limited to imprints from this lifetime alone, they often miss a bigger picture: our Soul's experience beyond this incarnation.
The good news is that by accessing the Akashic Records, you are able to go deeper: straight into the cause of any distortion affecting your life. You can find out how events from your previous lifetimes influence you today. And as you learn to work energetically with the Akashic Record, you will effortlessly shift out of difficult circumstances, change the trajectory of your life and embark on the course to a brighter future.
The Akashic Records contain the entire history of every soul that ever existed. They hold the energetic record of your soul's journey through every lifetime since its inception at Source.
The information stored in the Records has enormous influence on everyday lives. It holds the key to understanding our relationships, our choices, tendencies and belief systems as well as the reality that we manifest.
Your soul has a unique mission. By accessing your personal Akashic Records you can discover that mission, tap into your highest potential and access clear guidance on how to create the life your Higher Self desires.
You can access the Akashic Records:
I have created the Akashic Records Course so you can learn how to access the Library of the Universe in a conscious, awakened state and how to work with the Records to free your life from karmic loops, energetic distortions and blocks.
The Course will take you through simple yet effective steps you need to take to access, read and interpret the Akashic Records. You will receive practical guidance on how to work with the Akashic Records and the karmic field of energy to identify and remove trauma and karma that may negatively affect your life
Over the course of eight practical sessions and activations, you will learn how to use this powerful modality with confidence and efficiency. You will also personally experience powerful shifts and energetic upgrades as you clear your own Records from distorted energy.
By the end of the Course you will learn how to:
During the course of 8 powerful sessions
you will receive:
Choose the best option for you:
PACKAGE #1
The Akashic Records Course

90 days of Aeron's support in a private group

3 x channelled activations
PACKAGE #2
The Akashic Records Course

90 days of Aeron's support in a private group

3 x channelled activations

4 x individual Akashic Clearance and Coaching Sessions with Aeron
What my students say about Akashic Records Masterclass?
Aeron, thank you for teaching me how to access the Akashic Records. It´s a tool, it´s a map that now I will explore more! This workshop gave me more clarity and guidance. As we first accessed the Record I saw the entrance in dakrness. But once I entered the corridor, the walls started to be illuminated. They are made out of golden light. As you guided us to explore three different wall-images, I saw images of my previous lifetimes and karma associated wih us. After the session, I went for a walk with my dog and I felt my body so much lighter, I saw every human being and animal on our way through the eyes of love. Accessing Records is a tool for me, for my healing journey and dissolving what distorts my energetic field. It's of such value!
What an amazing Akashic Course! When I got through the first trip to the Hall I found 3 records, one which had emotion, sadness and much loneliness. I also had a helper in there with me. The Keepers said I'm in my records all the time...like a graduate student who is ALWAYS at the library. I'm there in my sleep time over and over. So we know each other very very well. They were chuckling because it was them first time when I came with my waking consciousness.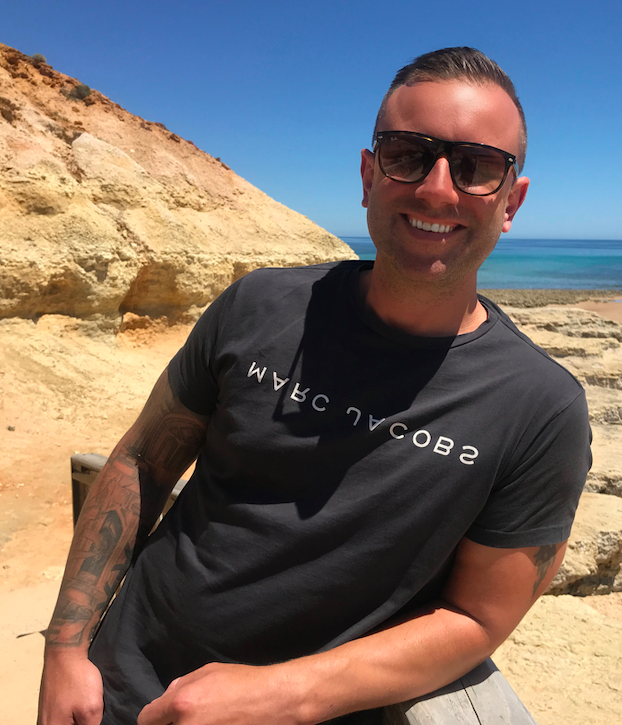 Multidimensional Psychic & Akashic Records Expert
Aeron Lazar is an Akashic Records Expert, an energy worker and a Starseed mentor with full-blown multidimensional psychic gifts.
Aeron works with the Akashic Records daily during his individual sessions with clients to pinpoint records with trauma and / or karma associated, neutralise the karma and then remove and repair any distorted frequency in their energetic field.
Aeron is passionate about helping people from all walks of life unlock their divine potential, access higher realms of consciousness, discover their planetary mission and effortlessly attract their soul's true desires.
Aeron Lazar created the Akashic Records Course to share his experience of working the Akashic Records so you can access the Library of the Universte yourself and clear anything that is holding your back from living the life your Soul desires.
Frequently Asked Questions about the Akashic Records Course